Within the spectrum of the abdominal procedures (also called Tummy Tuck, tummy tuck or abdominal flattening) is performed to improve the appearance of the abdominal wall which may be altered after pregnancy, significant weight changes, stretch marks or abdominal surgery which alter the appearance of the abdominal wall to keep it taut and smooth, removing excess fat infraumbilical area.
Is performed using a standard approach to implementation pubis or pubic hair in a horizontal direction this location allows adequate camouflage the scar with underwear or bikini.
It can be done in men or women, this procedure should be applied or tying the abs and obliques to refine the size and resection of excess skin and fat to later reposition the navel in a new position and often correct the appearance of obligo sad or flatten.
Often accompany this procedure of liposuction on the flanks or back so that the result is more appropriate. Patients achieve full recovery in the second week post-surgery but must attend constantly massage and use a strip of foam to achieve a better adhesion of the tissues.
Among the precautions necessary to obtain good results the most important is to refrain from smoking at least 3 months before surgery because smoking nicotine and many of the substances that are inhaled alter the normal processes of healing.
Results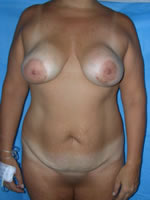 Before
After
Before
After