This procedure is aimed to removed localized fat deposits. The technique used include introducing a cannula of approximately 5 mm in diameter through an incision of the same size made in a non-visible area of the body.
Lipolysis on the other hand destroys adipose tissue through medical technology such as laser, ultrasound and resonance. This procedure is very effective and less traumatic than a liposculpture since this technique breaks down fat tissues avoiding the rupture of nerves and blood vessels helping collagenous fibers to contract and causing less inflammation and pain.
Patients can undertake Liposculpture to reduce fat excesses or shape a certain area. The recovery for these procedures usually takes up to 15 days and patients must wear a gilder and do therapy to reduce pain and inflammation.
Results
Before
After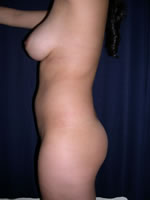 Before
After
Before
After