Collagenous fibers lose their rigidity due to time and skin deterioration caused by sun overexposure, giving a tired and aged look to the patient. Although this natural process is inevitable they can be dealt with.
Amongst the available techniques for facial rejuvenating the first procedure usually is Frontoplasty. This technique repositions the skin from the forehead, eyelids and eyebrows to a more natural position through a 1.5 cm incision.
Ritidoplaty is the procedure where all facial excess skin is repositioned for a more natural look through an intervention from behind the ears or an endoscopic procedure, depending on the patient.
Finally, Cervicoplasty or neck lift as its more commonly known, fixes hanging skin in the neck region and adjusts this area overall aesthetics.
For these procedures, patients must abstain from smoking 6 months prior to the surgery.
Results
Before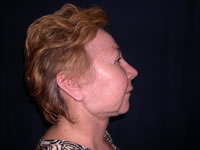 After